Steve Sykes takes band to Welsh Regionals
Andrew Richards
17 December 2009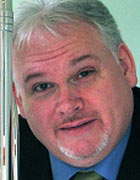 The Band has announced that Steve Sykes is to take the band to the Welsh Regional contest in Swansea next year.
This follows an agreement between the band and its resident MD, Gareth Ritter for a temporary sabbatical in order for him to take his other band, City of Cardiff to the same competition.
Band Chairman, Andrew Richards told 4BR: "Gareth is a very successful conductor and has worked hard in developing both bands. Obviously he can't take us both to the contest so we have agreed for him to have a short break from Abergavenny."
He added: "He will still remain our resident MD and will return to the Band following the competition. The band is very excited about working with Steve again."
Meanwhile Gareth Ritter added: "This has been a very difficult decision for us all but I'm really pleased that the band has engaged Steve for the Swansea contest. Steve and I will be working together in the new year to prepare the band."
---
Four players blow for 110 years
Sharon Havard
30 September 2009
There are very few Bandsman in south Wales who are not acquainted with the members of Abergavenny Borough Band. There cannot be many bands in the South Wales Band registry playing at Championship section locally and first section Nationally who can boast a membership which has changed very little in the past 5o years.
Abergavenny Borough Band celebrated its Annual Dinner and awards ceremony last weekend. With four players adding another 110 years to long service. The Dinner, enjoyed by the band and families with guests The Mayor and Mayoress of Abergavenny, Councillor Douglas Edwards and his wife Edna, previous Musical Director and Chairman of the Band for 38 years Eric Powell and his wife Eirlys.
Awards were presented to players of the band. Most notable Long service award to Cornet player Diane Mogford, 40 years service. Diane started her playing at a very young age, her potential was spotted and nurtured by the then Musical Director Eric Powell and by the age of 13 she was principle cornet of the band, Married to a fellow Cornet player and Vice Chairman David Mogford (who himself has 45 years' service )Diane has been the steering force behind the front row cornet section ever since her teenage years.
Karen Harris, received her 30 years service to the band, again starting playing at a very young age, under the guidance of Eric Powell Karen has been a senior player with the band for most of this time, playing Tenor Horn until recently, but now taking up a vital role in the cornet section.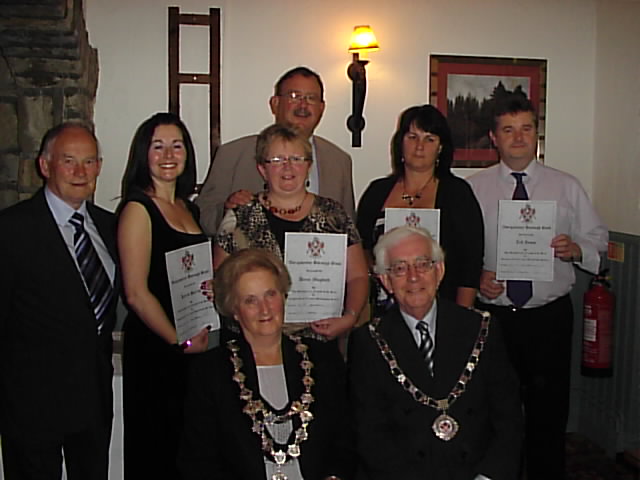 Lea and Jeff Jones received 20 years service each, Lea the bands repiano cornet player and librarian joined Abergavenny in 1988, Joined very quickly by her husband Jeff, Flugal horn player and ex Royal Welsh Fusiliers musician. Both have held principle seats in the band and have fostered their musical talents into their children Jessica and Jamie both of whom are brass musicians. Jeff has recently left the band to concentrate on his conducting, with Usk Junior Band. Everyone at Abergavenny wishes him well. This tally of years is to be added to the existing longevity of 190 years already totalled by David Mogford , Cornet 45 years, Andrew Richards, Tuba 40 years, Phillip Bull Trombone 30 years. Jacqui Llewellyn Baritone, 30 years, Deb Bull Tenor Horn, 25 years, Geraint Thomas, Percussion 20 years.
Two other awards were presented. The bands person and young Bands person of the year; voted for by the players. The respective awards went to the Chairman and Tuba player Andrew Richards for his stalwart and inspirational efforts over the past year and Euphonium player 15 year old Christian Dulay. Who's commitment, dedication and mature playing far exceeds his tender years.
Gareth Ritter Musical Director thanked the band for their support in the past year and looked forward to the contesting season where he believes Abergavenny will feature high in the prizes with the standard of playing the band is capable of. He congratulated the training band on their performances and successes over the past year especially winning at Crosskeys. He thanked Gareth Havard for his organisational skills as secretary and especially the recent trip to Beaupreau with the twinning association.
The Mayor Councillor Edwards echoed his thanks to the Band for the tremendous work they do representing the Town of Abergavenny he said "There are very few people in Abergavenny who have not seen or heard the Abergavenny Borough Band, performing in concert or playing at Civic occasions in the town in its 125 year history, we are proud of you and we thank you for all you do"
Pictured with their Awards are left to right Eric Powell, Karen Harris, Diane Mogford, Andrew Richards, Lea and Jeff Jones, seated the Mayor and Mayoress Douglas and Edna Edwards. Missing from the photo' is Christian Dulay who was unable to attend due to a prior musical engagement.
---
Band's Young Talent Represents Wales in NCBBGB
Howard Humphries
31st July 2009
Two of the Borough Bands 'up and coming' cornet players have just returned from the annual course of the National Children's Band of Great Britain. Emily Humphries was joined this year by Evan Roberts, the pair occupying the positions of Solo Cornet and Repiano Cornet respectively.
In an exhausting and exhilarating course lasting six days, these young brass players rehearsed and performed under the baton of the famous musical director, Dr Nicolas Childs. Sectional tutors of the likes of Brett Baker, John Doyle, Owen Farr, Katrina Marzella and Matthew Routley (to name but few), helped make it a most memorable experience.
During their full and busy schedule, time was spent rehearsing a variety of pieces including the march Thundercrest, Holst's First Suite in E, Horizons by Paul Lovatt-Cooper and other lighter concert items, topped off with Peter Graham's precipitous Gaelforce!
But it wasn't all work, work, work: time off provided lots of opportunity for fun and recreation which included a 'night out' for bowling and eating at 'Frankie and Benny's'!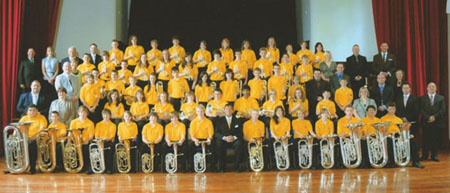 The course concluded with a concert at The Artrix Centre, Bromsgrove on Saturday 25th July. Although listened to with more than partisan ears, the fifty seven members of the band gave highly commendable performances of works which would challenge most 'higher section' bands after weeks of preparation. The bands guest soloist was Black Dykes' euphonium wizard David Thornton, who proceeded to delight an already thrilled audience with a programme of old and 'very new' music; some with aid of an amplifier and electronic reverberation!!! The band meets again in September when it will play at the Great Northern Brass Art Festival, in the Bridgewater Hall Manchester on September the 5th.
---
Band welcomes new members
Webmaster
2nd July 2009

The band is delighted to announce that over the last 6 months a number of new members have joined such that the band now has a full compliment of players around the stand.
The new members include:
Christian Dullea - Euphonium
Terry Prosser - Baritone
Rhiannon Griffiths - Horn
Tony Yellend - Bass
Lana Tingay - Cornet
Jonathan Tingay - Bass Trombone
Rhys Ward - Cornet
MD, Gareth Ritter commented:
"It's great to see and welcome the new members, and the key now is to continue to build on the successes of the last 6 months!"
---
Youth ensembles excel !
Colin Roberts
5 June 2009

The band's youth ensembles carried off several of the top prizes at the Greater Gwent solos, quartets and ensembles contest held in Newport on 30 May. As well as taking first place in the fifteen-and-under category, our ten-piece group gained second place in the open section, beaten only by an all-adult ensemble from Crosskeys Band.
Fantastic performances of Mozarts Eine Kleine Nachtmusik were given by Pedwar Y Fenni, a quartet that had its first rehearsal only five days before the contest. Put through their paces by musical director Gareth Ritter during the half-term holiday, the young foursome took first prize in the fifteen-and under and open sections and were pipped into second place in the eighteen-and-under category.
The ensemble competition followed a morning of high-class solo performances by young musicians from Cornwall, Shropshire and Gloucestershire as well as the Gwent region. Eight Borough Band players aged between eight and fifteen took part, Christian Dullea(15) and Evan Roberts(12) finishing in the medals, Christian in the slow melody 14 & 15 and Evan in the air varie open section.
Membership of the band's youth section now exceeds 30 players and tutor Colin Roberts is looking forward to further growth and even more success at next year's contest. New players of all abilities are always welcome. For further details, please click here.
The next opportunity to hear the full youth band perform will be at the Abergavenny Carnival on 11 July.
---
Band enjoy a successful weekend of contesting
Webmaster
29 May 2009

The Band are recovering after a busy, but ultimately very successful weekend of contesting.
On Saturday, 16 May the Band competed at the SEWBBA Contest that was held at Ebbw Vale Leisure Centre. Up against a strong contingent of 7 other local bands the Band achieved a well deserved 3rd prize with their rendition of Martin Ellerby's "Chivalry". In addition to this prize, solo horn, Debbie Bull also walked off with the HH Cook Memorial Trophy for the best Horn player.
On Sunday, 17 May the Band reprised their rendition of "Chivalry", but this time against 10 other bands from South Wales and Southern England at the Weston-Super-Mare contest. On this occasion, the Band walked away with 1st prize.
The Band would like to express its' thanks to Rhian Linney and Robin Hackett for their help on both days, and to Dewi Griffiths for his help at Ebbw Vale.
---
Band comes third at Welsh Regionals
Webmaster
26 March 2009

The Band have continued their successful start to the year on the contest stage, by taking third prize at the Welsh Regional first section championships that were held at the Brangwyn Hall, Swansea on 14 March.
The set test piece was "Pentacle" by Graham Cole that proved to be a very challenging test for the Band.
---
Band scoops double awards at Welsh Open
Webmaster
25 February 2009

The Band are celebrating after scooping two awards at the recent Welsh Open Entertainment contest that was held at the Grand Pavillion, Porthcawl on 21 February.
The Band, conducted by Gareth Ritter played a programme that consisted of the march "The Waltonian", tenor horn solo "An Untold Story" featuring Deb Bull, xylophone duet "Lizsteria" featuring Alison Thomas and Jess Bowman, "Myfanwy" and "Walking With Heroes".
The Band came fifth overall but picked up the prizes for the most entertaining programme and highest place first section band not in the prizes.
The Band would like to extend thanks to Robin Hackett (bass trom), Louise Edgar & Terry (cornet) for helping the Band at the contest.
---
Youth Band triumph at Greater Gwent Festival
Colin Roberts
07 February 2009

Abergavenny Borough Youth Band enjoyed a memorable victory in the annual Greater Gwent Festival at Crosskeys on Saturday 31 January. Competing against bands from as far away as Aberystwth and Cheshire, the band, made up of musicians aged between eight and twenty-one, reversed last year's top placings, just beating the Lions Band from Chester into second place and local contenders Usk into third.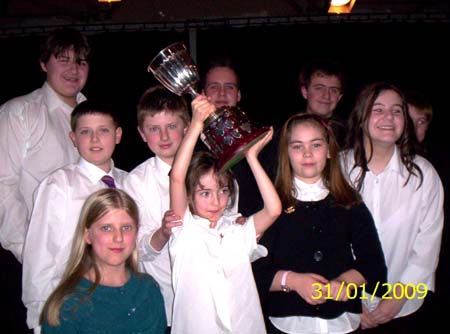 The band's task was to play a varied and entertaining programme and, under the baton of musical director Gareth Ritter, they certainly found favour with the audience as well as the adjudicator, big cheers going up for their song-and-dance version of Supercalafragilisticexpealadocious featuring the vocal talents of Tommy Mogford and Molly Brickley-Clark. Another favourite with the audience was the band's amusing version of Frank and Nancy Sinatra's duet Something Stupid played by Emily Humphries and Evan Roberts on cornets. The band's fine euphonium player Jamie Jones took the solo spot with the classic Blaydon Races.
Back a Page | Top of This Page