Our Rehearsal Nights
The Senior Band rehearses from 7:30-9:30 every Tuesday and Thursday
---
Celebration with Senior and Youth Bands
The Band is proud to welcome Phillippe Schartz as guest soloist for our concert at the Borough Theatre on 19th May.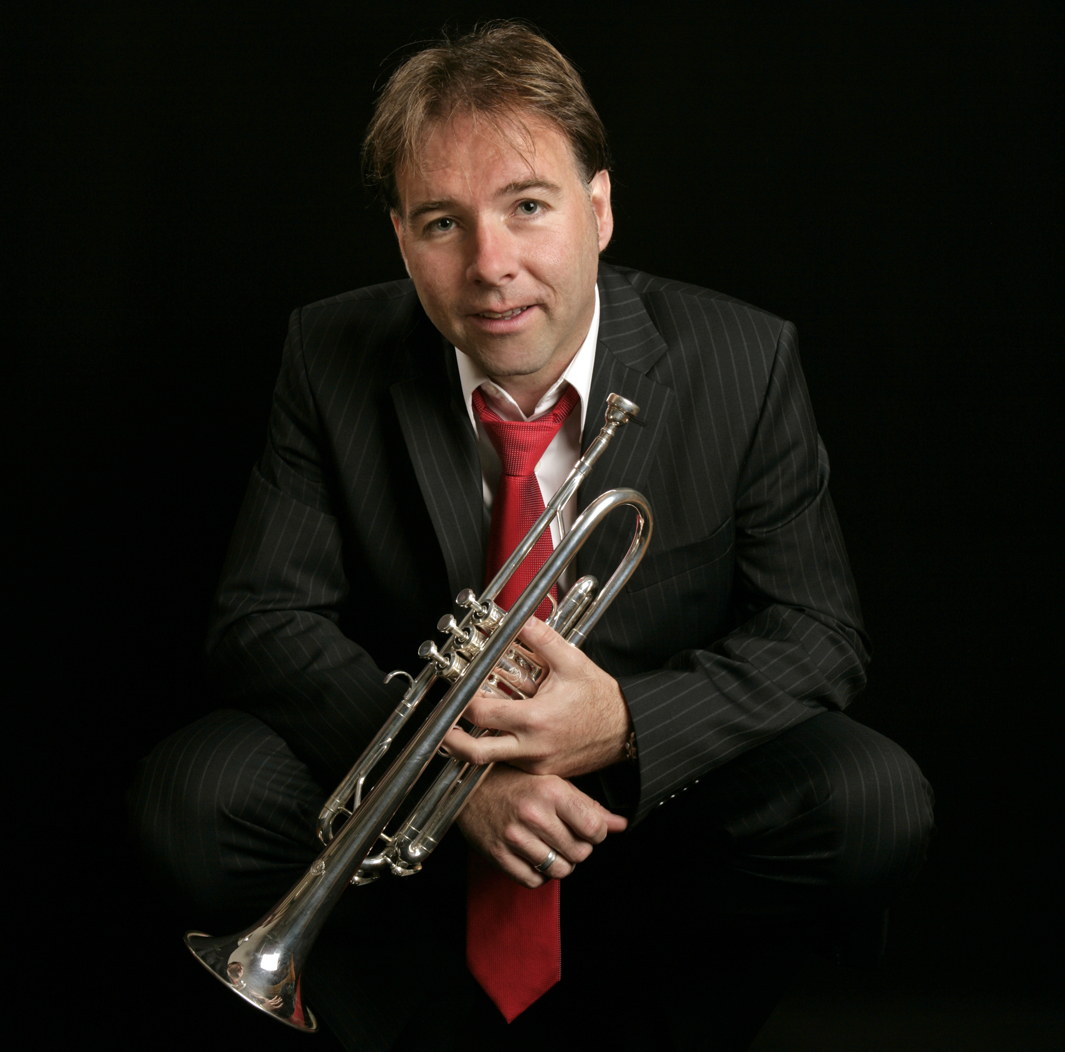 Philippe Schartz is one of the most exciting trumpeters of today. He has developed a highly successful career as an orchestral and chamber musician as well as a soloist. As Principal Trumpet of the BBC National Orchestra of Wales, the Mahler Chamber Orchestra, until summer 2002, and in his student days with the Gustav Mahler Youth Orchestra he has performed, to much critical acclaim, with conductors such as Claudio Abbado, Pierre Boulez and Bernard Haitink. His solo career includes many recitals and concertos all over Europe as well as four solo CD recordings. In addition Philippe has been broadcasted on numerous radio and TV stations including the BBC and diverse European networks. Philippe also enjoys teaching as part of the staff at the Royal Welsh College of Music and Drama, and has travelled around the world giving many masterclasses and educational workshops including at the Royal College of Music, Northwestern University of Chicago and Queens University Belfast Music School.
Tickets for the concert are available from the Borough Theatre Box Office priced £8 (£6 concessions). Tel: 01873 850805
---
Brass Metamorphosis Stretches the Band at Swansea
Our journey to the Brangwyn Hall in Swansea this year for the Welsh Regional Championships on 17th March saw the band return to the first section after its winning performance in 2017. A much anticipated performance, after weeks of rehearsal, gave the adjudicators much to commend the band on but there were too many technical playing issues to lift the band off the final 10th place on the day.
Never the less, players left the stage having delivered a confident and robust rendition of the test piece, Brass Metamorphosis by James Curnow. But a disappointing climax to all the hard work from the individual players and MD Sean O'Neil. The band will now focus on the busy year ahead.
Website editor
19th March 2018
---
Bitter –Sweet evening for Band Annual Dinner
This year's annual dinner and awards evening was tinged with sadness as the band said farewell to former President, Ray Hill, at his funeral earlier that day. A touching service was held at St Mary's Priory Church in Abergavenny when a small number of band members played for the congregation of family, friends, civic dignitaries and town folk who gathered to pay their respects to this much-loved servant of the town.
Ray attended many Band dinners with his wife, Muriel, and they would have thoroughly enjoyed this year's occasion where the best of the bands achievements and players were celebrated.
It was a well-attended event held at the Bear Hotel in Crickhowell on 9th February, with over 50 players and guests enjoying fine fayre and applauding the various musician awards and enjoying the more light hearted presentations that followed.
Our guests for the evening were Mayor & Mayoress of Abergavenny, Councillors David and Penny Simcock, Chair of Monmouthshire Council, County Councillor Maureen Powell & Mr John Powell, County Councillor Sheila Woodhouse & Chris Woodhouse and Alison & Geraint Thomas.
Band Chairman, Terry Prosser, gave his usual humorous welcome address and congratulated the band on its many achievements during the year, both on and off the contest stage. He also drew our attention to the fact that his age now exceeded the combined ages of his three fellow tuba players……its good to have some experience amongst all that youthful enthusiasm!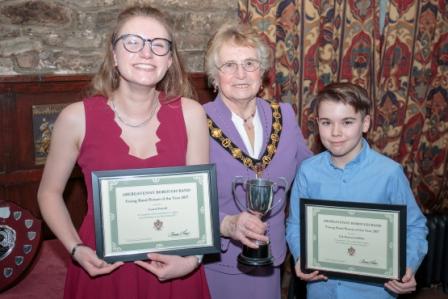 The first award of the evening was the Young Band Person of the Year (Presented by Maureen Powell) and voted for by the members of the band. This was jointly awarded to Zak Roynon-Griffiths (percussion) & Lowri Powell (Cornet).
The second award, again voted for by the band members, was Band Person of the Year (Presented by Mayoress Penny Simcock) was awarded to Band Manager Ian Howe.
Then there came two Musical Director's awards chosen and present by our MD, Sean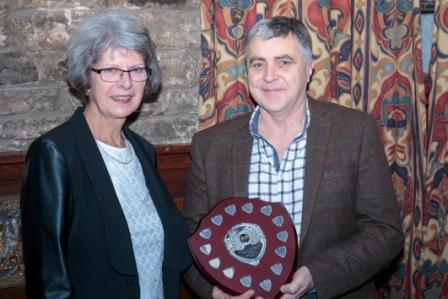 O'Neil. The MD's Award for best Instrumental Section went to the Trombones, Ian Howe, Jonathan Tingay & Stepen Moore; and the MD's Award for best Individual Player went to Jonathan Mudd.

Then humour crept into the proceedings as Resident Conductor, Lana Tingay, took control of proceedings. Not normally renowned for his soave and debonair dress sense, we were all staggered to learn from Lana that Richard Shorey had been awarded the crown of "best dressed bandsman". It would appear that Richard had discovered, lurking in the bowels of the band room wardrobe, an ancient bandsman's uniform complete with hat and red and gold piping. Having never seen such sharp outfits before, he could not resist the temptation to model the outfit, which turned out to be a perfect fit!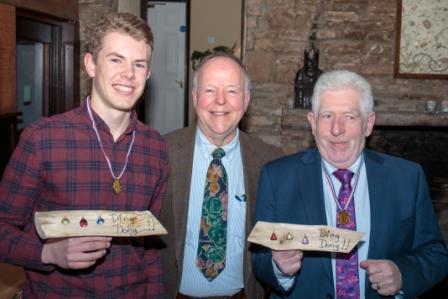 The merriment continued with the "Ding Dong" award to the players of the tuba section who missed their start to "Dingdong Christmas" at the concert in December, and a prize for the disorganised Bass Trombone player who left his families band uniforms in the house on contest day.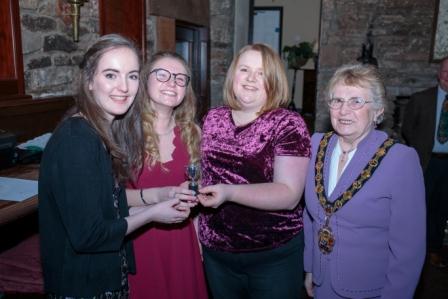 Then there was the initiative test for youngsters in the band. Which team could build the largest self-supporting structure from a load of junk? For their astounding model of the Eifel tower collapsing the award went to "the girls".
Website editor
10th February 2018
---
Ambition fulfilled at 82yrs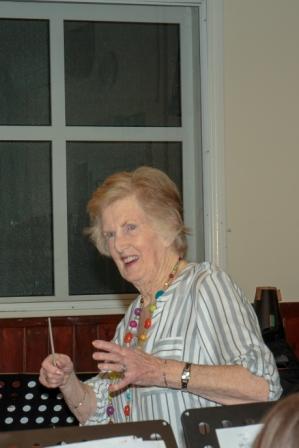 We all may have a "bucket list" and there are probable some things on the list which may never be realised. But don't give up hope…a chance comment at the Bands' Christmas concert by 82yrs old Jean Lockey from Pontypool to her close friend Brenda Vater led to the realisation of a long held desire to conduct a brass band.
Jean and Brenda are regular concert goer's and have heard the band on several occasions. As soon as Jean mentioned her wish, Brenda wasted no time in contacting the Band and asking if we could help. On Thursday 25th January we were delighted to welcome Jean, Brenda, family and friends to the band room so that Jean could try her hand with the baton.
Jean proved very adept at conducting and soon had the band under her control, firstly playing a march followed by Cornet Rock and finishing with Happy. Her family and friends may have thought they were coming along to observe but resident conductor, Lana Tingay, had other ideas and they were soon grappling with a variety of percussion instruments as they played along with the band.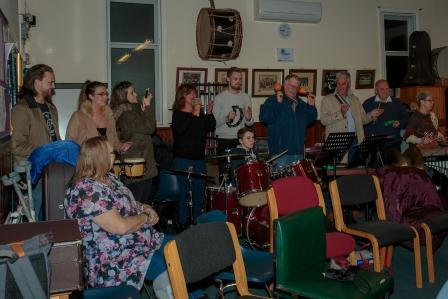 A very enjoyable evening was rounded off with tea and biscuits as Band Chairman, Terry Prosser, presented jean with a bouquet.
So don't despair, share your wish with a close friend like Brenda, and who knows what may happen.
In the group photo are some of Jeans family and friends, Steve Lockey, Gill and Ian Rowlands, Lauren and Joshua Rowlands, Kelvin and Brenda Vater.
Website editor
27th January 2018
---
FORMER Band President Ray Hill has died suddenly at his home in Chapel Road.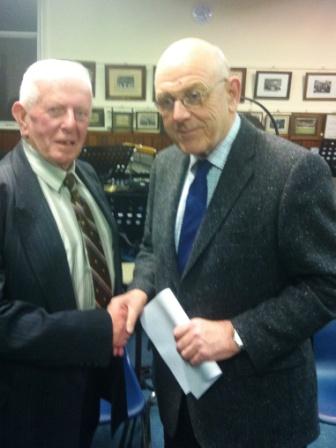 The band is saddened by the news that our former President of 26years has passed away. Although he could not play a brass instrument, his enthusiasm for supporting and representing the band at every opportunity was boundless, and we were always at the forefront of his thoughts when promoting the town he loved so much.
Mr Hill served as Mayor of Abergavenny on five occasions after being elected to Abergavenny Town Council as an independent councilor in the late 1970s and was widely respected for his forthright views. On his retirement from the town council he became one of only a handful of people to be made an Honorary Burgess of the town in the last thirty years. His predecessor as Band president was Jack Johnathan who was also an Honorary Burgess of the town.
Ray was always keen to support the band in any way he could and was often seen in the town with a collecting tin when we played, helping to raise funds for the band. When Ray decided to retire as Band president he introduced the Band to his friend and local business man Alan Griffiths who kindly accepted the nomination to become his successor. Ray is pictured here (left) with Alan Griffiths.
He well be greatly missed by the Band and out thoughts are with his wife Muriel and family members.
Website editor 17th January 2018
---
Back a Page | Top of This Page